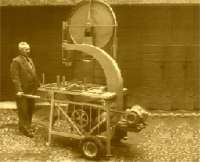 The story began in 1920 with Cesare Capelli, eighteen brothers all with the passion for mechanical application; his child Gianfranco, after the war, looked for a new solutions for an old problem: how join fast the handles to the pots. The solution of this matter was a new riveting machine able to pierce and rivet a pan in less than one second. The CAP 140 was born.

The advantage offered by this revolutionary machine, was immediately evident, so that the success was immediate and not only in Italy but all over the world.

Thanks to this invention CAPMAC is considered the n°1 in the world in the riveting machines for cookware.

Today CAPMAC has reached the third generation, becoming a modern and dynamics company, capable to take advantage of the most innovative technologies to design and produce their own machines. In the last years, with important investments in research and development, and with the collaboration with university and research centres as the Polytechnic of Milan and the Institut National Polytechnique of Grenoble, CAPMAC has succeeded in new markets, where its exclusive riveting technologies, have found innovative successful applications.